Surestart Staff Cheque Presentation to SANDS NI
Surestart Staff Cheque Presentation to SANDS NI
11 June 2017 (by Dominika Gold)
June is SANDS Awarness Month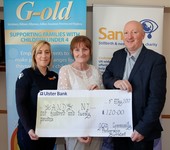 Staff at G-old Community Partnership -Surestart raised £120 for Sands NI in memory of the baby Benny Hutton whose parents Gemma and Barry have received support from Gold Surestart.
Gold Surestart is a service which provides a range of support and programme for parents of children under 4 years of age living within the Surestart catchment area i.e., Gortalowry ,Oldtown, Killymoon, Ardboe, Dunamore, Pomeroy and Maghera wards.
If you would like further information please contact Gold Surestart at 02886769994 or call into the office at Loy Buildings 18-24 Loy Street, Cookstown BT80 8PE.