Fit & Fabulous
Fit & Fabulous
10 December 2018 (by Dominika Gold)
Get fit and fab for Spring in Cookstown!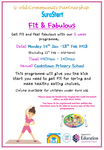 We thought you would like an extra programme...
***Fit & Fabulous***
Get fit and feel fabulous with our 5 week programme.
Check out the details on the poster below...
*You must be living within SureStart wards and be registered with Gold Community Partnership SureStart in order to attend FREE activities and programmes. If you are unsure why not give us a call on 028 8676 9994.