Care in the Sun
Care in the Sun
27 June 2019 (by Dominika Gold)
Are you enjoying the gorgeous weather?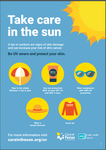 Check out this poster on how to take care in the sun!!
Also a gentle reminder to parents:
On a pushchair, DO NOT cover the baby with a muslin or blanket
Unfortunately, something that not all parents know is that covering your baby in their pushchair with a blanket or muslin can cause serious overheating. When even a thin cover is placed over the pushchair, the temperature in the pushchair increases, instead of decreasing. The baby might not be directly exposed to the sun, but they can become dangerously hot.
Instead of using a cover, you can use a clip-on sunshade or parasol. It's important that air can come through, to prevent the seating area from becoming too hot.
More info:
www.careinthesun.org
www.babynatal.co.uk/protect-baby-sun-heat