Big Toddle 2020
Big Toddle 2020
21 June 2020 (by Dominika Gold)
22-28 June 2020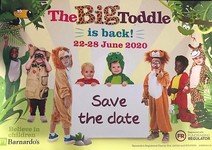 Would you like to hold a short sponsored walk to raise money to help transform the lives of the UK's most vulnerable children?
If your answer is yes, you could:
Toddle in the garden
If it is safe to do so, challenge your little ones to take a Toddle around your back garden. If your little one is three-years-old, their Toddle could be completing three laps of the garden!


Animal-themed scavenger hunt
Bring your Toddle indoors. Why not hold an animal-themed scavenger hunt around the house for your cheeky little monkeys? You could print off pictures of animals to hide around the house.

Take a Toddle on the wild side
Challenge your little ones to walk a set distance in the style of various animals. They could hold their arm to the side of their nose as if they were an elephant, open and shut their arms in front of their face like a snapping crocodile or waddle like a penguin with their hands by their sides.
Alternatively, you may wish to hold your Toddle at any time of the year such as at the start of the next school year, following the government's guidance to ensure that it is safe to do so.
https://www.barnardos.org.uk/bigtoddle/signup