Planner
Planner
27 June 2020 (by Dominika Gold)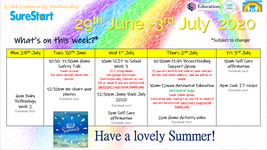 Hello everyone,
Hope you are all keeping well!
This is going to be our last planner before summer holidays, as we will be taking a little break ourselves.
Baby Reflexology will finish on Monday; you are also invited to join HAP Talk delivered by Raisa from Mid Ulster Council - details how to apply are on the poster.
We will keep you updated on any upcoming courses and programmes - so keep checking our FB page, website and FREE App.
Remember we are available to chat here or over the phone, so get in touch!
Have a lovely weekend!