Baby Massage
Baby Massage
21 September 2020 (by Dominika Gold)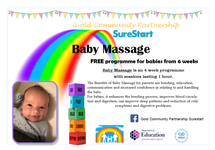 We are planning to deliver small Baby Massage classes in October at our Cookstown office.
Let us know if you are interested to join Pamela and Ann by ringing the office on 028 8676 9994 or PM us on Facebook. We will get in touch with you regarding the dates and times.
For more information about the Baby Massage check the leaflet attached.
All classes are FREE. SureStart registered families only.