New Class Alert
New Class Alert
28 September 2020 (by admin)
PEEP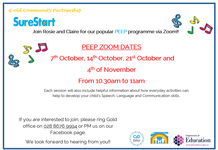 NEW CLASS ALERT!!!
Join Rosie and Claire for our popular PEEP programme delivered via Zoom!
Fun, interactive sessions for your kids...
Create the best start for your children by making the most of everyday learning opportunities at home; listening talking, playing, singing and sharing stories.
See poster for all the details
If you are interested to join, please ring the Gold office on 028 8676 9994 or PM us on our Facebook page.
SureStart families only.