Exciting News!
Exciting News!
30 September 2020 (by Dominika Gold)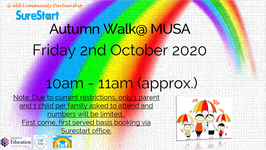 We would like to invite a small group of parents and their children to join us on Friday morning for a socially distanced Autumn Walk*…
See the poster for the details
To book ring the Gold office on 028 8676 9994.
Only the phone BOOKING WILL BE ACCEPTED.
All necessary precautions will be taken to ensure everyone's safety however parents are responsible for their child at all times.
Our aim for Friday is an initial ' get together' time to introduce you to some resources which we hope to share for you and your child to then join us over the next few weeks via zoom for 2-3 short sessions. More details to follow on the day from Arlene and Julie.
We look forward to seeing you - it has been way too long!
*Subject to most recent government and PHA guidance