Talking Together Workshop
Talking Together Workshop
5 October 2020 (by Dominika Gold)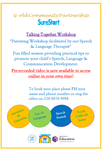 Talking Together Workshop will be available for parents to view online at their own time.
If you want to get practical tips on how to encourage your child's speech please book your place either by ringing our Gold office or PM via Facebook and you will get a video link issued to you.
For more info check the poster.