Breastfeeding Support Group
Breastfeeding Support Group
5 October 2020 (by Dominika Gold)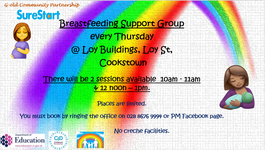 Breastfeeding Support Group is back face to face!
Are you a breastfeeding mother.....or even considering breastfeeding?
Would you like to chat with other mothers who are going through a similar experience to you...
Why not join Ann or Pamela our Public Health Nurses at our Breastfeeding Support Group this Thursday at Loy Buildings, Loy Street, Cookstown.
We have 2 sessions available from 10:00am -11:00am and 12:00noon - 13:00. Places are limited.
To book your place ring the Gold office on 028 8676 9994 or PM us on the Facebook. Would love to see you there