Dummy Awareness Session
Dummy Awareness Session
7 January 2021 (by Dominika Gold)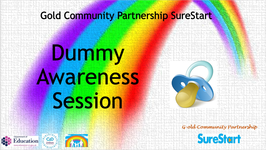 Are you interested in finding out more about the appropriate use of dummies?
Sarah our Speech and Language Therapist has recorded a short video covering important points to remember if your child uses a dummy and simple tips for reducing dummy use.
Free party gift bags for everyone who watches!
Available to SureStart registered families only.
Simply PM us via Facebook or phone Gold office on 028 8676 9994 with your name and mobile number by Wednesday 13th January 2021.
After that you will receive a message from Sarah with access link to the video.