Infant Feeding Workshop
Infant Feeding Workshop
11 January 2021 (by Dominika Gold)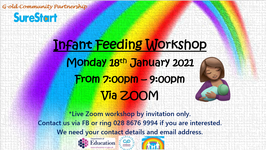 Attention all antenatal mums and their partners!!
Join Pamela and Ann our follow up antenatal session - Infant Feeding Workshop on Monday 18th January 2021 via ZOOM.
There is going to be a lot of useful information on:
*Breastfeeding health benefits for both mum and baby
*Hormones and how they work for breastfeeding
*How to know if your baby is getting enough
*Positioning and attachment
Contact us via FB or ring 028 8676 9994 if you are interested.
Send us your name, address, contact details like email address and phone number and we will be in touch.
This workshop is available to ALL expectant parents!
(you do not need to be in the SureStart area to attend this)