Baby Massage
Baby Massage
15 February 2021 (by Dominika Gold)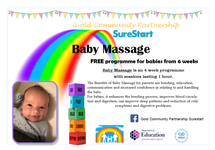 Hello to SureStart new parents!
Did you have baby recently? Is your baby over 4 weeks?
If your answer is YES
Join our Baby Massage class starting on 22nd February 2021 at 10am via Zoom.
Book with us via Facebook or email info@goldsurestart.org.uk
Looking forward to see you!
SureStart registered families only!