EU Settlement Scheme Deadline‼
EU Settlement Scheme Deadline‼
27 May 2021 (by admin)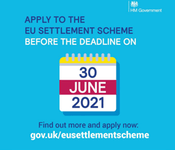 If you're an EU, EEA or Swiss citizen, you and your family need to apply to the EU Settlement Scheme if you wish to continue living and working in the UK after 30 June 2021.
Under the EU settlement scheme, EEA citizens who have been living in the UK for five years or more are able to apply for settled status, which will allow them to stay and work in the UK. Individuals who have lived in the UK for less than five years can apply for pre-settled status, providing they have been residing in the UK prior to 31 December 2020.
The deadline for applications is 30 June 2021.
Please refer to the https://www.gov.uk/eusettledstatus website for further information on how to apply and the evidence that you will need to provide with your application.