New Class Alert‼
New Class Alert‼
3 June 2021 (by admin)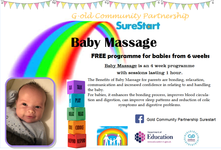 We will be delivering Baby Massage classes in June via Zoom. The class will start on Wednesday 16th June for 4 weeks from 10am to 10.45am.
Let us know if you are interested in joining Pamela by ringing the office on 028 678 69994 or PM us on Facebook.
For more information about Baby Massage check the flyer below.
All Surestart classes are FREE.
Surestart registered families only.