Summer 2021 Antenatal Programme/Workshops
Summer 2021 Antenatal Programme/Workshops
29 June 2021 (by Dominika Gold)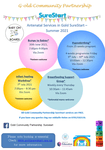 Check out our antenatal programme/workshops delivered by Helen our midwife, Public Health Nurses - Pamela and Ann, and Sarah our SLT.
Our Antenatal Workshops (Bumps to Babies & Infant Feeding ) and Breastfeeding Support Group are available to all.
To access other programmes and classes you need to be living within the Gold SureStart area and be registered with us.
Book your place by ringing 028 8676 9994 or PM via FB