Breastfeeding Support Group - NEW TUESDAY GROUP
Breastfeeding Support Group - NEW TUESDAY GROUP
14 July 2021 (by Dominika Gold)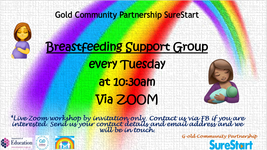 Do you live in Maghera/Magherafelt area?
Why not come along to our NEW Breastfeeding Support gr
oup delivered on Tuesdays via Zoom.
The group will run weekly from Tuesday 20th July 2021.
If you are interested, please book your place by ringing the office 028 8676 9994 or PM us via messenger.
***B/F Group is open to all breastfeeding/antenatal mums in the area.***