Mood Matters Workshop
Mood Matters Workshop
15 July 2021 (by Dominika Gold)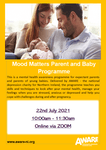 Gold SureStart would like to invite you to Mood Matters - Parent and Baby Programme which will be delivered by AWARE on 22nd July 2021 via Zoom.
Please check the poster for detailed information on the workshop.
If you are interested book your place by ringing the office on 028 8676 9994 or via the messenger.