Introducing our Autumn Newsletter and Planner
Introducing our Autumn Newsletter and Planner
3 September 2021 (by admin)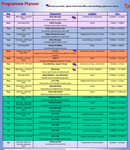 Welcome to our first newsletter for more than 16 months!
The good news is we are resuming more of our usual programmes and activities on a face to face basis which you have been waiting for.
We will take bookings from Monday 6th Sept so you will have a whole weekend to decide what programme and activity you would like to join.
To book ring 028 8676 9994 on Monday 6th September
Also you can view full NEWSLETTER on our website