New Nurturing Programme
New Nurturing Programme
10 September 2021 (by Claire Murphy (Claire Gold))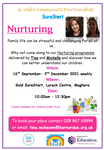 Parenting is hard work and sometimes it feels like we always get it wrong ☹
Would like to learn strategies to make family life a little easier?
Well why not come along to our Nurturing Programme.
Join Michelle and Tina on a Thursday morning in Maghera to discover how the Nurturing programme can help you as a parent understand your children's behaviour a little better and learn strategies to encourage co-operation and responsive behaviour.
Creche available for all children under 4.
Full details below for booking.