Booking Reminder
Booking Reminder
21 September 2021 (by Claire Murphy (Claire Gold))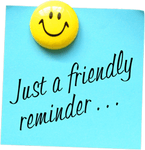 A gentle reminder that Bookings for Let's Play sessions will be open from 10:00am on Tuesday mornings.
Under no circumstances can bookings be taken before this time - you will be asked to call back at 10:00am.
Due to limited spaces we must operate on a first come first serve basis.
We are expecting a high volume of calls due to demand, please be patient with staff who wiill endevour to get to you as soon as they can.
Thank you