Announcement
Announcement
26 March 2020 (by Dominika Gold)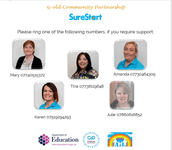 Good morning everyone, we hope that everyone is keeping well.
A lot of changes happened yesterday and unfortunately from lunch time today our SureStart buildings and office will be closed.
We would like to reassure parents that staff will still be working from home and are available for support when you need them.
Please message the FB page or call the numbers below and we will direct your query for you.
Please do not be afraid to ask any question no matter how big or small - we are here to help.
In the meantime the Facebook page and the website will be updated daily with different tips and ideas for you including at home activities, helpline numbers, recipes and other resources for you to use at home.
Please keep yourself and your family safe at this difficult time.
Mary T and Gold SureStart Staff