VIRTUAL JOB FAIR
VIRTUAL JOB FAIR
9 April 2020 (by Dominika Gold)
@ SUSE+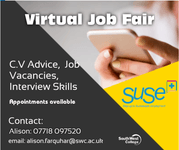 Attention Parents!
SUSE+ have set up a VIRTUAL JOB FAIR for those who have been made redundant or lost their job and are keen to secure an income into the home during this difficult period.
SUSE+ are currently working remotely and available to support those who eager to secure a job or just need some coping mechanisms to help manage anxiety and link in with support organisations e.g. food parcels, financial support...
Feel free to contact Alison on 077 1809 7520 if you have any additional requirements.