SANDS NI
SureStart Staff Cheque presentation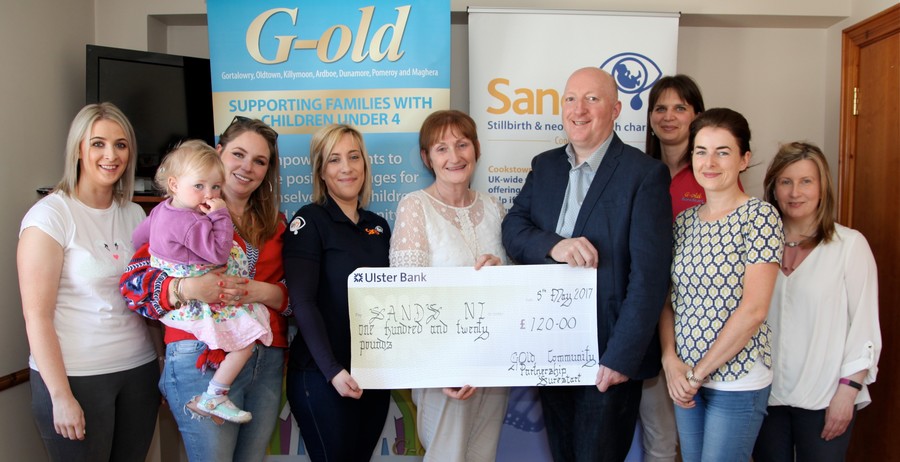 Staff at G-old Community Partnership -SureStart raised £120 for Sands NI in memory of the baby Benny Hutton whose parents Gemma and Barry have received support from Gold SureStart.
Gold SureStart is a service which provides a range of support and programme for parents of children under 4 years of age living within the SureStart catchment area i.e., Gortalowry ,Oldtown, Killymoon, Ardboe, Dunamore, Pomeroy and Maghera wards.
If you would like further information please contact Gold SureStart at 02886769994 or call into the office at Loy Buildings 18-24 Loy Street, Cookstown BT80 8PE.
What SANDS NI do?
Sands exists to support anyone affected by the death of a baby, to improve the bereavement care received by parents and families, and to influence policy makers and promote research to reduce the number of babies dying.
How we do it?
Bereavement Support
Our Bereavement Support Helpline offers support to anyone affected by the death of a baby via email, telephone and on social media.

Support booklets and bereavement support packs are available on request.

Remembrance events: the annual Lights of Love and Sands Garden events are organised and anyone affected by the death of a baby can attend.

The Sands online forum.
Improving Bereavement Care
Bereavement Care Training for professionals and students runs throughout the year.

Projects run with NHS England, the Department of Health and NHS Education Scotland.

Resources for Health Professionals are produced and updated. These include: post mortem consent package, audit tool, Sands teardrop sticker, Bereavement Care Network, Sands Guidelines for Professionals.

Conferences across the UK attended and hosted.
Networks and Volunteering
Specialist Befriender training held and support given.

Dedicated staff to support new Groups.

Supporting Group volunteers with communications, troubleshooting, financial support and difficult situations.

Building links within and across Group Networks with Network calls, Network Days and regular newsletters.
Research and Prevention
High level lobbying and influencing all four UK governments to reduce baby deaths.

National strategic work with the NHS and professional bodies to make maternity care safer.

New resources such as the standardised tool to support hospital reviews of care when a baby dies; and public health messages about stillbirth risks.

Developing Sands policy on all aspects of reducing avoidable deaths.

Managing Sands Research Fund and collaborating with researchers across the UK to drive forward perinatal research.
Sands Northern Ireland Network (SandsNI)
Sands NI has 11 monthly support evenings all led by Sands trained Befrienders

Sands Befrienders are bereaved parents who have been supported by Sands after their own loss.

We provide Memory Boxes free to all NI Maternity & Neonatal units

The Memory Boxes are assembled at our office in Portadown by bereaved parents who volunteer to come along to a box making session

We hold two main remembrance events during the year. The first Sunday in June is our Walk a Mile in My Shoes Walk

The second Friday in December is the annual Sands Carol Service. Currently there are 3 services, Portadown, Londonderry & Omagh with plans for two more

We provide funding for Improving Bereavement Care training for health professionals

We are funding the development of bereavement suites in several NI hospitals. The first of these is planned to be completed by the end of June 2017

ALL of our funding comes from families we have supported who organise events in memory of their baby
Contact Us
Steven Guy
Northern Ireland network Co-ordinator
Tel- 02838392509
Mob-07587248977
Sands NI
Magharee House
82 Thomas Street
Portadown
BT623NU
NI Helpline 07740993450